Breaking the Fast in Cairns
Post and photos by Foodvixen, March 11th 2019
Forget the ubiquitous tourist traps, these Cairns cafes and restaurants are serving up food that is worth getting out of bed for.
NOA
This popular restaurant in the blue-chip suburb of Edge Hill has a hip and trendy breakfast menu that keeps the gourmands coming back for more. The menu changes regularly but what keeps me coming back is the great coffee and good service. Kick back on the breezy deck with a flat white and the newspaper with one of NOA's signature breakfast boards. You can thank me later. 1 Pyne St, Edge Hill.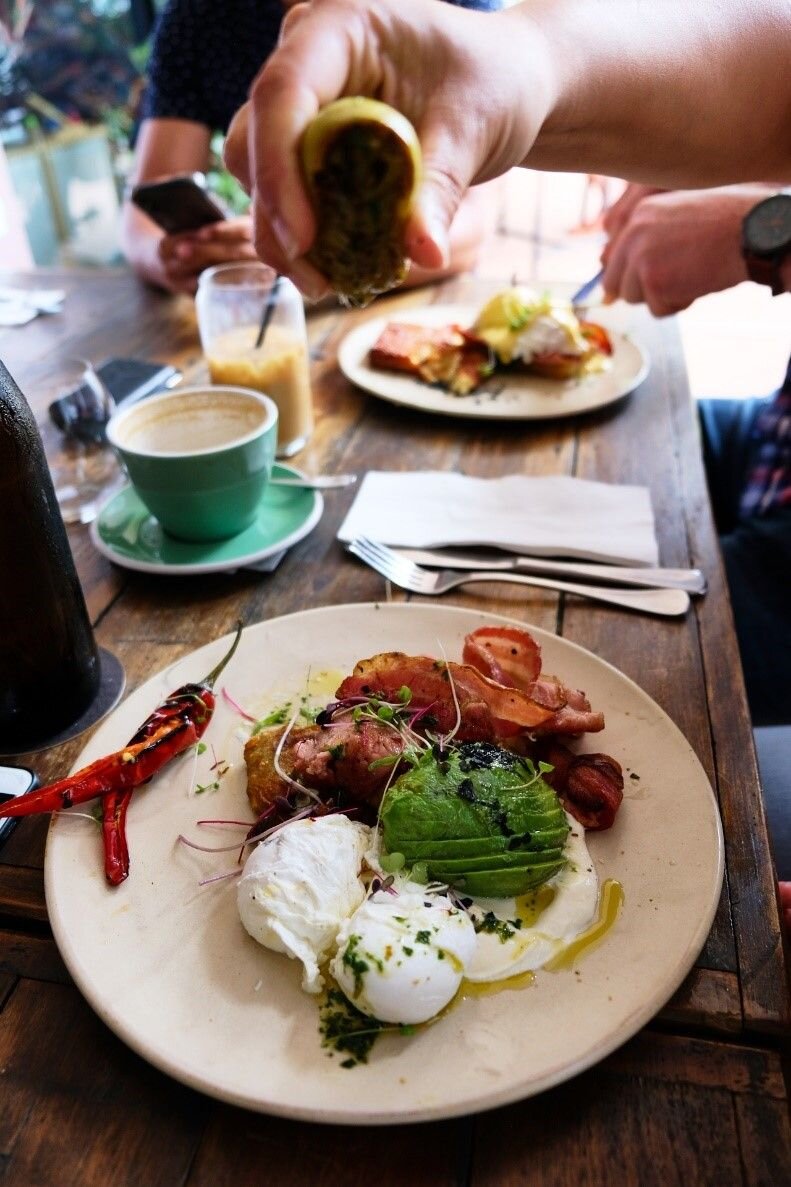 NOA - Collins Avenue, Edge Hill
Caffiend
Buzzing with people at any time of the day this hip and happenin' café in the heart of Cairns is a food and coffee haven with one of the most innovative menus in town. The go to dish at Caffiend is without a doubt the Chilli Eggs but my personal fave is the Miso Scramble with miso infused free range eggs, spring onion, black sesame, bonito and shichimi pepper because life's too short to eat boring food. 78 Grafton Street, Cairns City.
Caffiend - Grafton St, Cairns
The Lillipad Cafe
Cairns locals have a love/hate relationship with the Lillipad, as it's so fondly referred. This cafe is one of the best cafes in Cairns for a big breakfast but because of its enormous serves and cheap as chips menu items it can get very busy on the weekend. If you're looking for something substantial the Turkish Breakfast is nearly big enough to feed an army. 72 Grafton Street, Cairns City.
The Lillipad Cafe - Grafton St, Cairns
Vivo Bar and Grill
A high-end breakfast spot with excellent service and a postcard view to boot awaits you at popular Palm Cove restaurant Vivo. For something a little different to your usual breakfast fare try the Vietnamese Pancake with Tiger Prawns and Homemade Sambal. If the stunning view doesn't wake you up the fiery sambal will surely slap some sense into you! 45 Williams Esplanade, Palm Cove.
Vivo Bar and Grill - Williams Esplanade, Palm Cove
Little Loco
Situated a hop, skip and jump from the Cairns lagoon is one of the best vantage points to people watch. Even better than the people watching on offer is the French Toast with Bacon on the menu. If bacon isn't your thing then there's plenty of dairy free, gluten free and vegan options to satisfy even the most discerning foodie. The servings aren't enormous, but they certainly hit the spot. And what's better you can head down to the lagoon for a dip post brekkie. Shop 1/53 Esplanade, Cairns City.
Littlr Loco - Esplanade, Cairns
Woodward St Bakery
If you're having caffeine withdrawals on your holiday, you'll be happy to know that the coffee at the Woodward St Bakery is top notch with their beans coming all the way from The Little Marionette in Sydney. The uncomplicated menu may not be extensive, but it has a strong focus on local produce and simple, fresh flavours. What's best is you can pick up a loaf of freshly baked sourdough to take back to your holiday home… after a wander through the nearby Botanical Gardens of course. On the roundabout, 216 Woodward St, Whitfield.
Woodward St Bakery - Whitfield
Mama Coco
I've always been a big fan of Mama Coco. When I first started blogging back in 2011 it was one of the very first places I wrote about. With their regularly changing menu Davy and his team are always adding new and exciting 'on trend' breakfast (and lunch) dishes like this Smoked Salmon Breakfast with Grain Loaf, Smashed Peas, Herb Yogurt, Pickled Onion, Beetroot and Radish. Good coffee, even better food and easy parking make Mama Coco a local fave. 196 Aumuller St (Aumuller St/ Mulgrave Rd intersection).
Mama Coco - Aumuller St, Westcourt
Sing Sing Espresso
Hidden down a little alley way off Lake Street you would be forgiven for walking straight past this tiny café. Serving some of the best coffee in town it goes down a treat with brekkie dishes such as the Avocado, Edamame, Lime and Chilli on Sourdough. The space is unpretentious and maybe a little plain some might think but it's cute and inviting in its own little way and a little bit of a secret, so you know you're not going to be there with hordes of people. 82C Lake St (next to Woolworths).
Sing Sing Expresso - Lake St, Cairns
Others worth a visit include: Smith St Café, NOA, Le Crouton, Slap & Pickle and Pete and Paulz.
Looking for some child friendly venues with playgrounds to keep the little ones entertained? Check out Wharf One and Muddies Café.
Follow me on my blog www.foodvixen.com and like me on Facebook for more Cairns cafe and restaurant reviews.